Description
The Festool Trion jig saw is available in both a barrel grip and D handle version, this review is of the D handle version but aside from the handle, the machines are identical. As one would expect, the Trion comes in a Systainer, (a stackable case). It also includes a dust collection adapter, splinter shield, and a couple of blades. The Trion also uses the Festool detachable (Plug-it) power cord and like all other corded Festools, the cord is long and sized to work with their line of vacuums.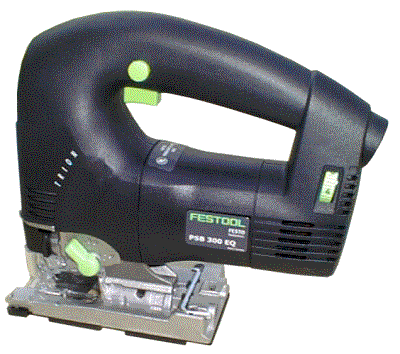 The Trion has a very sleek and smart appearance and a compact easy to maneuver feel to it. The 6 amp motor has plenty of power and is variable speed from 1000 to 2900 strokes per minute. A variable speed dial is located on the back of the grip near the cord. I was expecting speed changes to be inconvenient since you cannot adjust the speed (with one hand) while pressing the trigger. To date, this has not been an issue at all, evidently I don't change the speed after starting the tool.

In Use
The blades are bayonet types and Festool carries a wide assortment of them to fit the tool. To insert a blade, the spring loaded lever on the front is pulled out, the blade inserted, and then the lever is released. Blade changes are simply a dream compared to any other tool I own, the only way it could be any easier than this is if they were to change themselves. I anxiously await the day when router bits will be this easy to change.