Description
The Festool OF2000e is a heavy duty production plunge router in the 3 1/2hp class. It's motor is rated at 16.7 amps and is the largest router motor that I am aware of, all others I've seen in the market top out at 15 amps.

The OF2000e form is typical for a large plunge router. It comes in a large Systainer along with several accessories. These include an edge guide, both 1/2" and 8mm collets, a 30mm guide bushing, a dust collection shroud, side stop, and collet wrench. As per usual the router also comes with a long power cord to match the Festool dust extractor hose length.

The base has an opening 2.8" in diameter. The opening in the dust shroud is 2.1" in diameter but it is not flush with the base so I think you could use a horizontal panel raiser even with the shroud installed. The plunge depth is 2 9/16" with the end of the collet set about 1/2" below the base plate when fully plunged.

Weighing in at only 11.2 pounds, the OF2000 has a very high power to weight ratio which makes it more maneuverable and easier to lug around compared to similar heavy duty routers.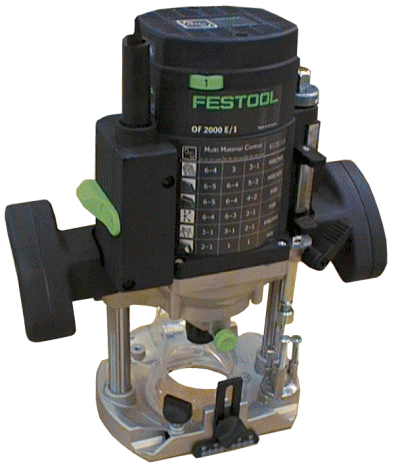 Optional foot accessory shown installed